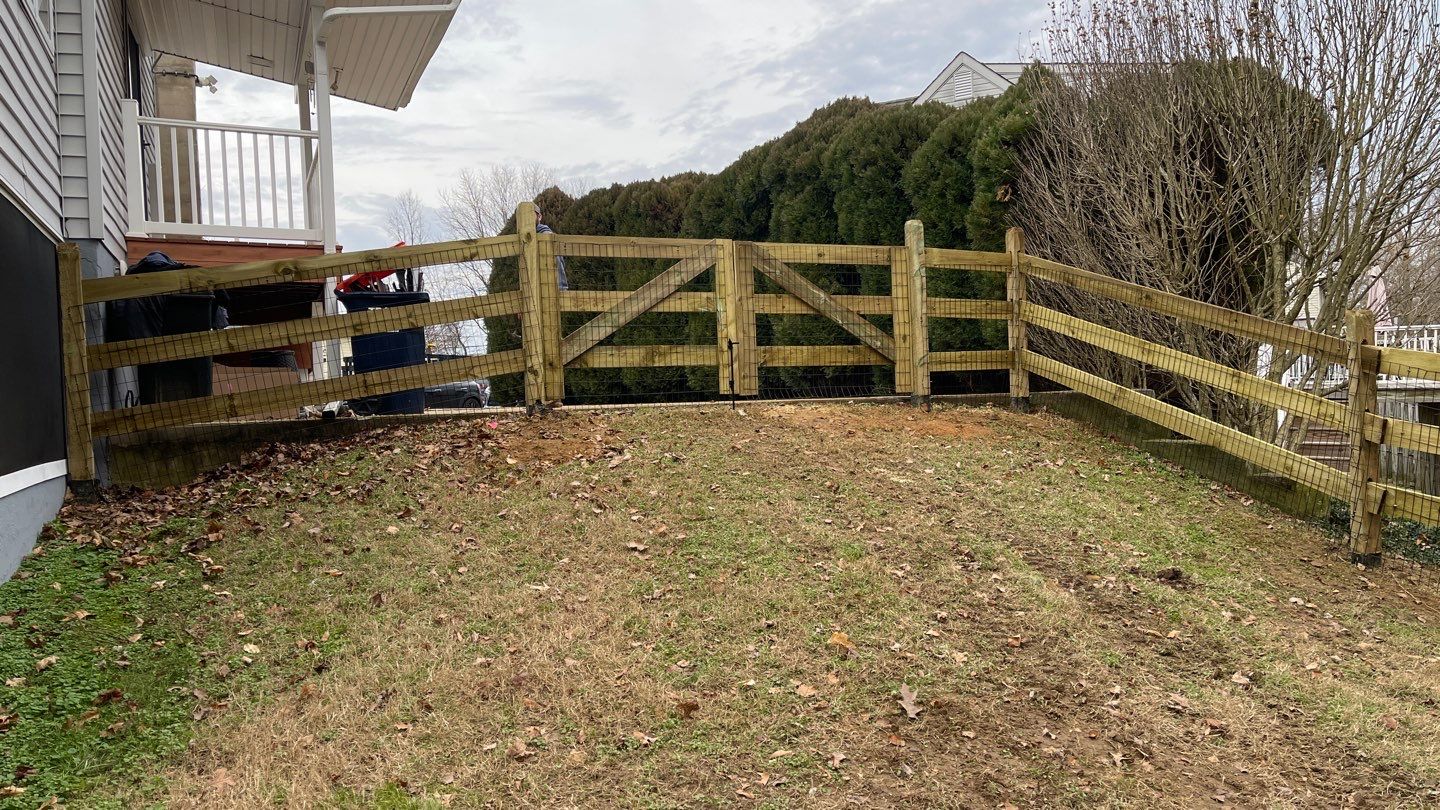 Gates provide a significant outdoor addition to any yard. They offer privacy and add to the aesthetics of the property; and if built correctly, they also increase property value. Wooden gates especially add a touch of rustic charm to match your home's exterior and come in an abundance of wood types, design styles, and stain finishes. 
Whether you want a DIY custom wood gates installation guide to enhance the look of your residence or want to know how the professionals at Leading Edge in Newark, DE, do it, keep on reading. Below we have provided a step-by-step guide on how to build a wooden gate. 
A Step-by-Step Guide on How To Build a Wooden Gate
1. Finding the Dimensions of Your Wooden Gate
If you currently have a gate, measure its length and width to determine your new wooden gate's dimensions. Otherwise, measure the space available between the pickets by placing your measuring tape at the top of one post and extending it to the post on the other end of the space. Then, repeat this process by measuring between the middles and bottoms of the posts. 
Take the smallest measurement and subtract the latch side and hinge gap to find your total wooden door width. For instance, if your smallest space measurement is 50 inches and your hinge gap is 0.50 inches with a 1.50-inch latch, your gate should be no more than 48 inches wide. Screw on your hinges and measure each hinge gap to the nearest tenth inch. 
If you want your gate height to be uniform with your fence size, measure the length of one picket and note that number. Otherwise, add or subtract inches in height as you deem fit. With these dimensions in mind, create your unique gate type.
2. Creating Your Gate Brace
Considering your gate size, take two 2×4 wooden boards for your gate's end pickets and cut them to your chosen height (let's say 65 inches.) Next, take your gate width and subtract three inches before cutting three boards (in this case, these boards measure 45 inches.) These boards will rest horizontally between the first two vertical boards.  
Place a pocket on either end of the same side of two of the three 45-inch boards (the four-inch side). Flip both boards over and add a dado to the four-inch ends. Using a dado blade on a table saw, cut a 1.5-inch groove into either side of all three planks for the gate width, creating a gap to slide wood beams between the gate frame. 
3. Assembling Your Wooden Gate
Next up in your custom wood gates installation guide includes putting the pieces together. Lay two of the vertical boards spaced apart to your full gate length in linear feet. Place one of the width boards with dados on either end horizontally over the lower half of the other two and use 3.5-inch deck screws in the pre-drilled holes of the middle board to attach it firmly to the vertical boards. 
Measure your remaining gate width after subtracting the first two vertical boards and determine how many additional boards you need to fill the center. These custom wood gates require you to cut each plank individually before sliding them into the dado groove of the gate brace. 
Once complete, add a width board beneath the new string of vertical ones, lining them into the width board's dado groove. Screw them into place with 2.5-inch deck screws, and the solid bottom part of your gate is complete. Create parallel plank bars or another design head for the upper wooden gate portion.
4. Adding a Diagonal Brace and Installation
On the back side of the gate, add an x-shape for sturdiness. Lay one board diagonally from the upper left to the bottom right corner and mark where you have to cut, so the board stays within the frame. Use a miter saw to cut the markings and check the fit before repeating this process with a second board. 
Place pockets on each angle that attaches to the brace with 2.5-inch screws. Place the X-shaped planks back in the brace before placing the brace into the gate frame. 
Finally, attach one end of the spring hinges to the gate and the other to the fence. Just make sure to check the level before screwing on the hinges. Now, your custom wood gates installation guide ends here. 
Quality Wooden Newark Gates Since 1993
From large-scale wooden double gates protecting your sizeable residence to smaller hidden-away rustic gates leading into your backyard, we have you covered. Our highly skilled fencing contractors with almost 30 years of experience will help you with your questions, from "how much do wooden gates cost?" to "how to stop wooden gates from swelling."
Call Leading Edge Fence & Gates at (302) 892-2575 for more on our custom wood gates installation guide and free consultation in Newark, DE, today!