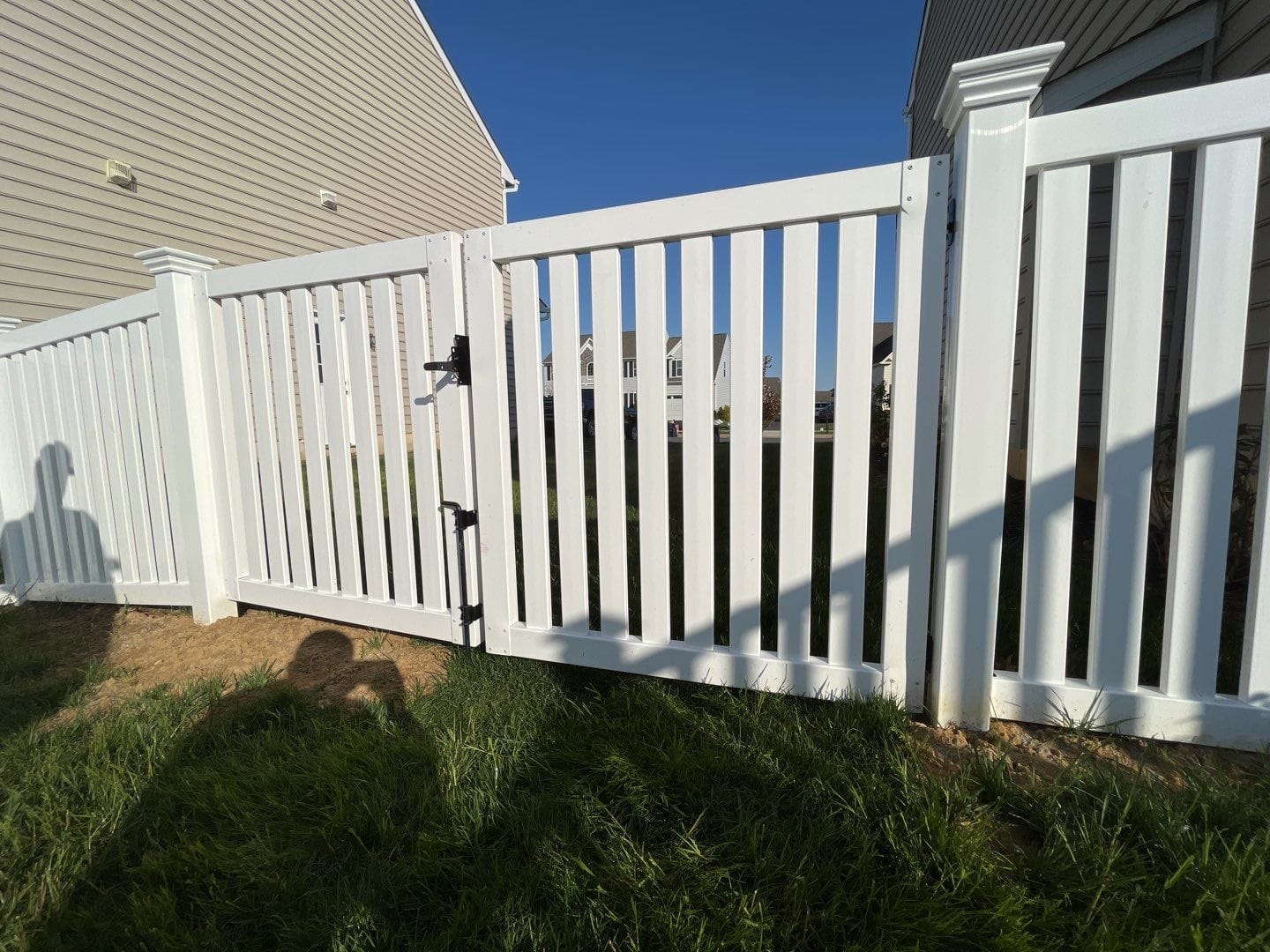 Custom vinyl gates are the perfect solution to add a unique touch of style to your home's entryway. With customizable options, you can create a unique gate design that suits your tastes and stands out from the rest.
Leading Edge Fence and Gates has been helping out residents of Newark, DE, for a long time with their custom vinyl gate installation services. We understand the importance of creating an inviting entryway that both looks good and is also secure. Whether you are looking for a simple gate or an elaborate design, we have all the materials and expertise needed to craft something special for your home.
In this blog post, we will discuss the different options available, what steps need to be taken in order to install them, and tips on how to ensure your custom vinyl gate looks great for years to come.
Designing Your Custom Vinyl Gate to Suit Your Home's Style
Whether you prefer a contemporary, traditional, or eclectic look, customizing your gate can help complement the style of your home. By working with a contractor to create your custom vinyl gate, you can rest assured that the installation will go smoothly while also achieving the aesthetic you are looking for. Designing the perfect gate may involve choosing from various colors, shapes, textures and decorative hardware. 
Choosing a Style for Your Custom Vinyl Gate
When it comes to choosing a style for your custom vinyl gate, the options are limitless. Whether you're looking for something classic, contemporary, or something in between—designing a custom vinyl gate with your individual style in mind can help add value to your home. Here are some popular styles to consider when designing your custom vinyl gate:
French Gothic – This elegant design features pointed arches and symmetrical patterning. It creates an inviting atmosphere and is perfect for a more traditional look.

Ranch style – Ranch-style gates offer a simple yet bold look that complements many different home styles. With their rectangular frames and simple lines, they offer an effortless yet elegant feel that will look good with any type of residential property.

Modern design – If you're looking for something more modern, you can opt for sleek horizontal boards or even intricate latticework designs. 
No matter which style you choose, a custom vinyl gate is sure to make a statement and add value to your home's exterior.
Materials and Components for Your Vinyl Gate
With a few simple materials and components, you can create an entryway that's both visually appealing and highly functional.
At Leading Edge Fence and Gates, we specialize in crafting beautiful custom vinyl gates that will add charm and value to your property. Here are some of the basic components used in our custom gate creation process:
Vinyl Panels
Vinyl panels provide the foundation of your custom gate's structure. They come in a variety of sizes and colors so that you can choose the perfect combination for your home. Our expert team will take precise measurements for an exact fit.
Installation Hardware
We use high-quality hardware like locks, hinges, and other accessories to ensure a secure fit for your vinyl gate. We also offer weather-resistant hardware that doesn't rust or corrode over time.
Posts
The posts serve as support structures for your custom gate. At Leading Edge Fence and Gates, we use high-grade galvanized steel posts or aluminum posts that are designed to withstand extreme temperatures and windy conditions without weakening or bending over time.
Installation Tips for Your New Vinyl Gate
Installing a vinyl gate requires care and attention but by following some best practices, you can ensure a successful installation.
Measure It Right
Before you begin, take the time to measure both the width and height of the gate opening. It's essential that these measurements be accurate or your new vinyl gate won't fit right. 
Check For Damage
When you remove the old gate, inspect its structure for any damage. If there are signs of any damage, it must be addressed before installing your new vinyl gate.
Caring for Your Vinyl Gate: Maintenance Tips to Keep It Looking New
Caring for your vinyl gate will ensure it stands the test of time and looks as good as the day you had it installed. Here's what you need to do:
Cleaning
In order to look their best, vinyl gates should be cleaned on a regular basis. For light cleaning, simply use a mild soap and water solution with a soft brush or cloth.
Weatherproofing
Weatherproofing is an important step in maintaining your vinyl gate's appearance and durability. A quality weather sealant will protect against sun damage, fading, cracking and other types of wear caused by exposure to extreme temperatures or moisture. \
Painting
If you want a different look for your vinyl gate without replacing it, painting is an option. Before you start, make sure the surface is clean and dry, and apply primer if necessary. Choose paint with UV protection that's designed for outdoor use.
Contact Leading Edge Fence & Gates Today!
No matter what kind of design you're looking for, Leading Edge Fence and Gates can help you make your dream home a reality with their Fence and Gates Installation services. Get in touch with us today and find out just how easy it can be to create a unique entryway for your home. Contact now at (302) 892-2575 for a free estimate!